Field prospection in the Aninoasa village area, Covasna County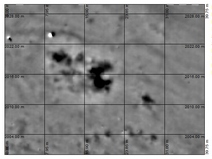 The field prospection in the Aninoasa village area, Covasna County, was conducted as one of the project's recent activities. The researches included a visual archaeological diagnosis, as well as a geomagnetic and geochemical diagnosis. The surface of the site was topographically documented, making it possible to create the site's altimetry profile. Following the first field researches some Eneolithic shards were found. Thus the research team was completed by dr. Dan Buzea (Sf. Gheorghe) and Björn Briewig (Berlin), both specialized in the prehistory of south-eastern Transylvania.
An interesting result was provided by the geomagnetic researches, carried out with the manually propelled "Dr. Förster" Fluxgate Magnetometer with five sensors. The measurements covered an area of 30x40 m², revealing a series of geomagnetic anomalies. One of these indicates the presence of a construction that measures 8x14 m², in the centre of the researched surface. Other smaller anomalies can be seen at a distance of about 6-7 metres and 9-10 metres from the above mentioned construction.
Several soil samples, up to 1 meter in depth, were collected for the geochemical diagnosis. Their geochemical analysis will be conducted in the following time-frame.